The IVF process in detail
IVF may seem complicated, scary, and confusing. People want to know "what is the IVF process, step-by-step?" Our specialist teams can give you a better understanding of this fertility treatment.
Throughout your IVF treatment, we make sure you understand every step of the process and we help you feel comfortable during this important time in your life.
On the second day of your menstrual cycle (your period), you have a blood test. You will undergo a series of blood tests over the next few weeks.
The blood tests help us see how your body reacts to ovarian stimulation. For example, your oestrogen levels usually rise when you develop follicles. At the same time, your progesterone levels remain low until after ovulation.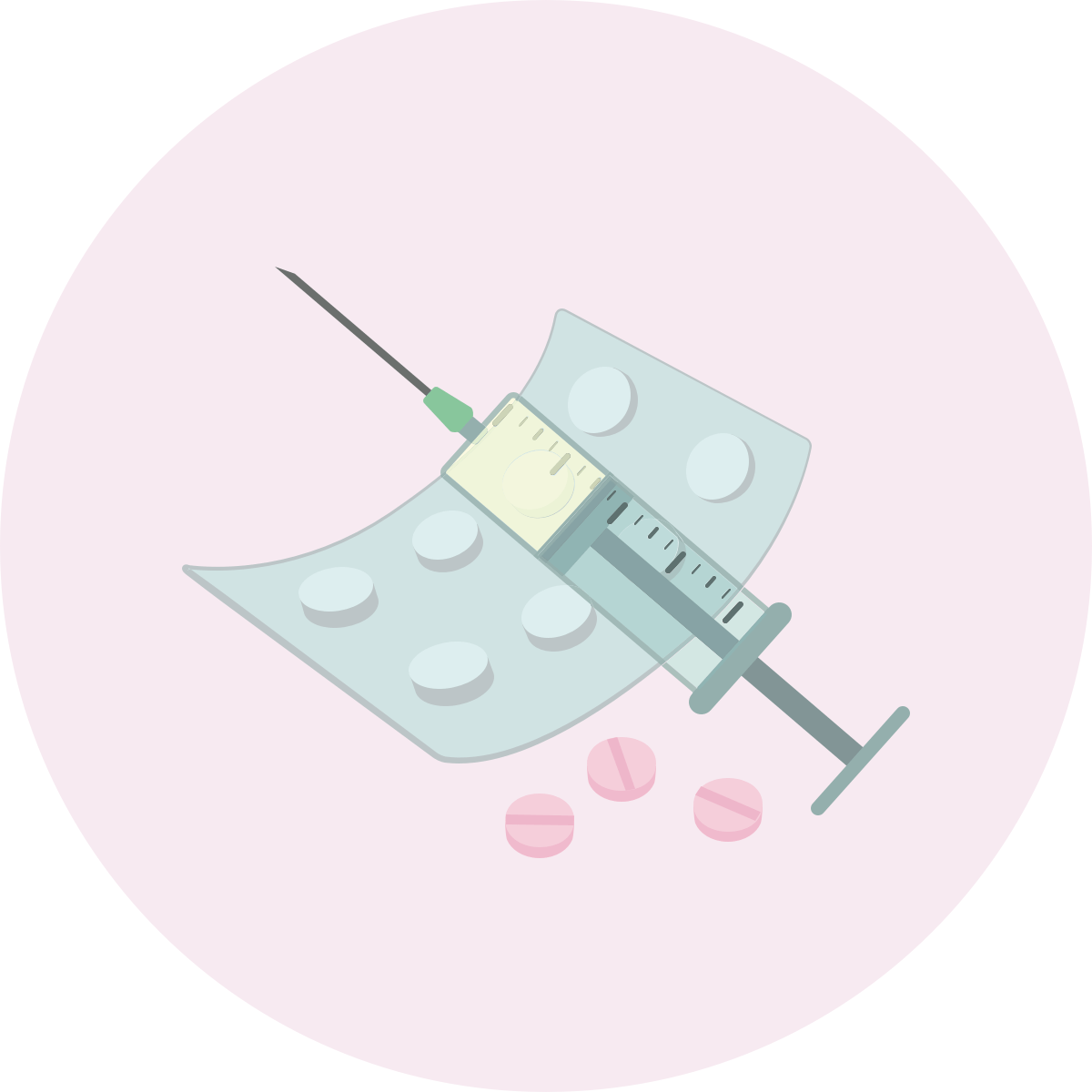 On the second or third day of your period, you may start ovarian stimulation treatment. This means you inject yourself with medication containing follicle-stimulating hormone (FSH) and sometimes luteinising hormone (LH). The goal is to produce more than one egg.
You will do this for several days, whilst we monitor the number of ovarian follicles and their growth via ultrasound.
Later, you may need to take other medication to help your eggs mature or to prevent your body from releasing the eggs too early. This depends on the results of your blood and ultrasound tests.
Once we see you have developed follicles, and they reach a certain size, we plan the trigger injection. The injection is a medication that helps to mature the eggs prior to collection.
Your eggs have now matured, and 34 to 36 hours after your trigger injection we collect them from your ovaries.
It's a quick procedure, though performed under anaesthetic. You will be asleep during the entire procedure.
We collect your eggs using transvaginal ultrasound. That means we use a thin needle with suction through the vagina, retrieving eggs from the follicles. If we cannot access the follicles through the vagina you may be scheduled to have the eggs collected via laparoscopy, through the abdomen.
The eggs are then placed in a culture, in a dish, where they are assessed.
After the procedure, you may feel some discomfort. You will be prescribed some pain killers and this feeling should subside after a few days.
On the same day of surgery, the semen sample is produced. The semen fluid is separated from the sperm, and the sperm is prepared for fertilisation in our lab.
If your partner cannot ejaculate, or if his ejaculate does not contain sperm, we can extract sperm directly from a testicle using testicular aspiration, or TESA.
If it is known in advance that there are no sperm, your doctor can discuss the possible use of donor sperm.
The prepared semen and eggs are brought together in a dish and incubated. The dish can have up to 100,000 sperm per egg. Fertilisation is checked the following day. Over the next few days, the embryos develop.
If the quality of the sperm is poor due to low numbers or reduced motility, we can perform intracytoplasmic sperm injection (ICSI). This is when we inject an egg with a single sperm.
"The ICSI method involves the injection of one healthy sperm into each egg. Fertilisation is dependant on a good quality egg and a good quality sperm."
Dr John Ryan | Scientific Director at Fertility Specialists of WA
If we successfully fertilise more than a few eggs, we can freeze the remaining embryos. They can be used in future treatment cycles should the current round not be successful.
About five days after your egg collection, we transfer a fertilised egg (known as an embryo) into your uterus. If we use frozen embryos, this can happen months or even years after your egg collection.
This procedure is quick and usually painless, so you don't need an anaesthetic. We insert a catheter through your cervix — similar to having a pap smear. This allows us to carefully place the embryo or embryos into your uterus.
It is possible to transfer more than one embryo. However, this increases the risk of a multiple pregnancy. We only consider transferring more than one embryo in specific cases. At our clinic, we aim to transfer one good-quality embryo.
Key points:
IVF treatment can be carried out in eight steps.
Through hormone injections, we prepare your body for egg collection.
Your treatment is continuously and closely monitored to make sure everything is going to plan.
If the embryo transfer is successful, it will implant within 3 to 5 days. Around two weeks after the transfer, we test for pregnancy using a blood test. This is more precise than a standard home pregnancy test.
If you have fallen pregnant, the next step in your important journey starts. Our clinic can accommodate you for the first seven weeks of your pregnancy to ensure everything is going as planned.
What if my pregnancy test is negative?
If the pregnancy test is negative, we will review your past cycle and discuss what happens next:
You may want to consider going through the IVF steps again.
If you have embryos stored, you may want to have a frozen embryo transfer cycle
Our specialised fertility clinic in Perth also offers psychological counselling to help you process the experience and the treatment.